Great Lakes Researchers Go Down Under
Movement studies of Great Lakes fishes were a featured topic at the 4th International Conference on Fish Telemetry in Cairns, Australia, this past summer.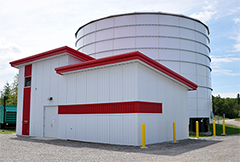 Rising Higher: A Research Lab Built from the Ground Up
A state-of-the-art invasive species laboratory is being built on the shores of Lake Huron at the USGS HBBS. The biological station is one of seven field stations of the USGS Great Lakes Science Center, and is operated via a decades-long partnership with the Great Lakes Fishery Commission.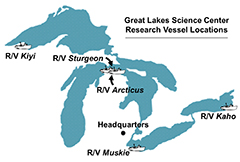 Meet the Fleet: GLFC-USGS Partnership Makes Waves with Newly Renovated Deepwater Science Vessel Fleet
The U.S. Geological Survey (USGS) achieved a major milestone on August 31, 2015 when the Research Vessel (R/V) Arcticus was commissioned into service on the Great Lakes under command of the USGS Great Lakes Science Center. The historic event marked the final step toward modernizing the entire USGS Great Lakes research vessel fleet with five state-of-the-art floating laboratories.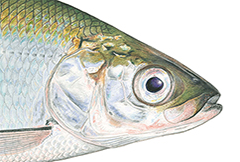 A Monograph on Ciscoes of the Laurentian Great Lakes and Lake Nipigon
Following a nearly four-year team effort at analysis and writing, the Commission announces publication of Ciscoes (Coregonus, subgenus Leucichthys) of the Great Lakes and Lake Nipigon. This report, styled as a monograph, is available online now and will soon be printed for field use.